Search

Home
Surname
First Name
Popular Products

Coat of Arms
Clan Badges
Books & Gifts
Celtic Jewelry
Black Shirts
CD Music
Download

Design Gallery

Irish
Flags
Celtic
Tartans
Scottish
Claddagh
Surnames
Highlander
Celtic Radio
Research

History
Country
Families

Our store includes not only customized products, but select clothing items from brand name house hold names like Champion, Izod, WeatherProof, Adidas and more. For those in rural areas or that are home bound, we offer a separate clothing store containing thousands of items that can be purchased quickly with expedited service and shipping (hard to find larger sizes are available). We offer a wide selection of popular Celtic and Medieval books, Jewelry, Gifts, Accessories (such as caps and designer bags), Mouse Pads, Coat of Arms Plaques, Surname History PDF files, Bumper Stickers and Coat of Arms Downloads.

Our Heraldry Database has thousands of Family histories to search. Visit Now!

Keith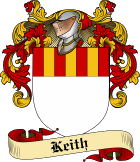 Coat of Arms

---
A warrior of the Chatti slew the Danish General Camus at the Battle of Barrie in 1010, for which valour Malcolm II dipped three fingers into the blood of the slain and drew them down the shield of the warrior, thereafter named Marbhachair Chamuis, or 'Camus Slayer'. Ever since then, the chief of the Keiths has borne on his arms the same three red lines. This is depicted as early as 1316 on the sea.....
Family Name Search: Aar (van Der)
The Great Surname of
Aar (Van der)
Search Family History:
Search Over 30,000 Surnames in our
Index
!



Aar
Coat of Arms





Antique Map of Netherlands





Netherlands Flag

Custom
Aar (Van der)

Products that we offer:
---

Download

Family History

Travel Mugs

Premium Tees

Woman Tees

Woman Tanks

Sport Shirt

Long Sleeve Tees

Baseball Shirt

Ringer Shirt

Hooded Jerseys

Children Tees

Aprons

Tote Bags

Mouse Pads

11 oz. Mugs

14 oz. Mugs

Beer Steins

Poster

Stickers

Magnets

Latin Frame

Basic Frame

Motto Frame

Laurel Frame

Deluxe Frame

5 Panel Cap

6 Panel Cap

Pigment Cap

Bandana

Military Cap

Bucket Hat

Adventurer Hat
More information about the
Aar (Van der)

surname:
---
We have no further information available.

Order our Family History product and we can research for you!

Surname Index