Search

Home
Surname
First Name
Popular Products

Coat of Arms
Clan Badges
Books & Gifts
Celtic Jewelry
Black Shirts
CD Music
Download

Design Gallery

Irish
Flags
Celtic
Tartans
Scottish
Claddagh
Surnames
Highlander
Celtic Radio
Research

History
Country
Families

We custom design and produce all of our products with industrial press technologies located at our Boston Massachusetts facilities! This industrial process results in superior manufacturing that will outlast even store bought products. Our base products are supplied from a major clothing wholesaler, so we can keep our prices low.

Orders made today are generally filled within 1-4 weeks depending on our current supply schedule. All products have a 30 day money back guarantee for defects in workmanship. Customer satisfaction is our number one priority!

Our Heraldry Database has thousands of Family histories to search. Visit Now!

Stafford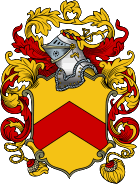 Coat of Arms

---

T

he family name Stafford is derived from the Anglo-Saxon word "Stat", meaning a town, and "ford" meaning a ford. These two words joined together produce the name Statford, which through a simple transition was finally spelled Stafford, the name of a town in England, which was originally built by Ethelfleda, daughter of King Alfred, about 910-915 A. D. It is located on the Sow River, near its juncti.....
Family Name Index: ( Showing 1 To 10 Of 32120)
Welcome to the Coat of Arms Online Surname index. Search our entire catalog of designs for your family surname. Click on the Coat of Arms to view a larger version. If you ordering from a third-party site and require the Arms #, you can find it here. Can't find your family's Coat of Arms, no worries...contact us and we will have our graphic artist create your family's Coat of Arms!
( Showing 1 to 10 of 32120 ) Next >>